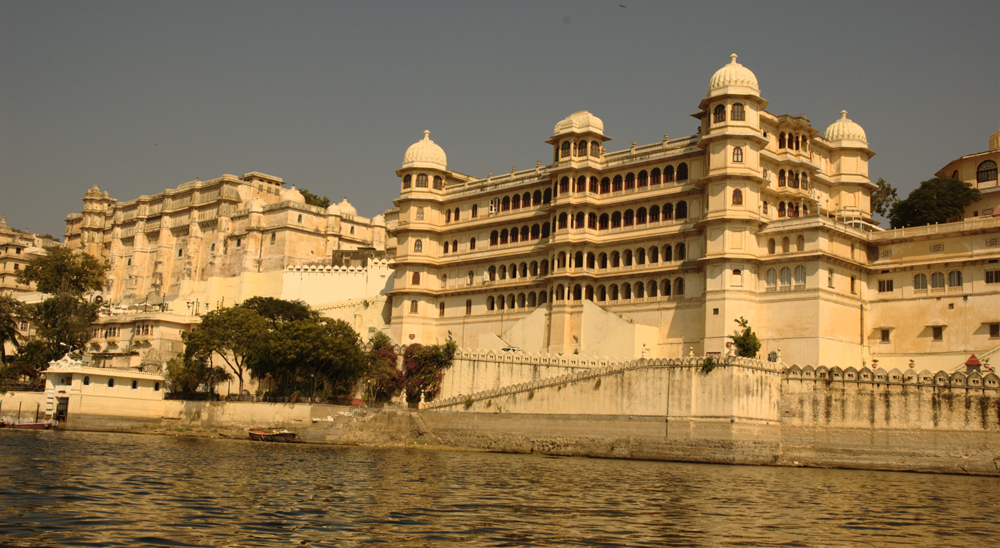 Attractions in Udaipur
The most impressive attraction in Udaipur is the magnificent City Palace which is now a museum and houses fine art works in glass mosaics, and miniature paintings, of which Udaipur is famous, depicting glories of an ancient past.
Just down from the City Palace is a boat landing where you can take a ride around Lake Pichhola with an interesting stop at the Jag mandir Palace. Here you may enjoy a lovely cup of cappuccino while sitting in the garden or have lunch in the restaurant. You may also wish to make a dinner reservation here and watch the sunset over the water or the play of colors on the buildings on the mainland.
The Jagdish Temple is a great focal point for the Hindu people of Udaipur. The temple is dedicated to Vishnu.
About 4 km north of Jagdish Temple is another beautiful lake called Fatehsagar.
Just east of this site is Sahelion ki Bari, a magnificent garden of flowers, trees and fountains.
The Monsoon Palace (Sajjangarh) is located on a high promontory above Lake Pichhola. A spectacular view of the city can be had from this location. Rickshaw or hired car will take you there.
Attractions around Udaipur
Eklingji (22 km)
Timings: 0415-0645, 1030-1330, 1715-1945 hrs
Eklingji is a temple complex of 108 small temples of 8th century. The main temple of Shiva has four headed sculpture in black stone.
Nagda (23 km)
Timings: 0800-1800 hrs
Nagda was first capital of Mewar kingdom and now left with ruins of temple known as Saas-bahu temple dated 10th century.
Ranakpur (88 km)
Timings: 1100-1700 hrs
It is small temple complex on Udaipur to jodhpur route via Sadri. Ranakpur is widely known for its white marble Jain temple dated 14 th century and much older Sun temple in the big complex.
Kumbhalgarh (84 km)
Timings: 0800-1700 hrs
Kumbhalgarh fort is founded by Maharana Khumbha dated 14 th century and has perimeter walls that extend 36 km claimed to be longest in the world after "The great wall of China". Fort once had over 360 Hindu and Jain temples . Some of which could be seen till today.Area around the Fort is a wildlife sanctuary which you can visit.It is also a heaven for trekkers.
Source: http://www.aashiyahaveli.com/Attractions.aspx, http://www.charutravel.com/services/Package-Tour-Udaipur.aspx, http://www.makemytrip.com/travel-guide/udaipur/things-to-do.html
For more details about Udaipur, kindly visit any of the below URL